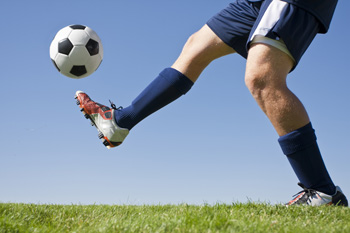 If you do not want to hurt your feet when kicking a soccer ball, it is important to master the correct technique. While an athlete might excel at kicking the ball with one foot, they may not be as gifted when using their other foot. Great soccer players learn how to kick the ball with both feet and learn to kick it firmly without hurting themselves. Many new soccer players start by kicking the ball with their toes and doing so runs the risk of injury. To kick the soccer ball properly, approach the ball at a 45-degree angle and plant your non-kicking foot at the side of the ball, either open or pointing at the target. At the start of the swing with the foot you are kicking with, try to point your opposite hand at the target and then strike through the ball while swinging your arm for balance and power. The kicking foot should go through to the ball making contact with the laces area of the soccer shoe. This is the part of the foot that is used to kick the ball long distances. For safer passing over short distances, use the instep of the foot. If you or your child play soccer and a foot injury is sustained, consult with a podiatrist who can evaluate the injury and suggest appropriate treatment.
Sports related foot and ankle injuries require proper treatment before players can go back to their regular routines. For more information, contact one of our podiatrists of Podiatry Services . Our doctors can provide the care you need to keep you pain-free and on your feet.
Sports Related Foot and Ankle Injuries
Foot and ankle injuries are a common occurrence when it comes to athletes of any sport. While many athletes dismiss the initial aches and pains, the truth is that ignoring potential foot and ankle injuries can lead to serious problems. As athletes continue to place pressure and strain the area further, a mild injury can turn into something as serious as a rupture and may lead to a permanent disability. There are many factors that contribute to sports related foot and ankle injuries, which include failure to warm up properly, not providing support or wearing bad footwear. Common injuries and conditions athletes face, including:
Plantar Fasciitis
Plantar Fasciosis
Achilles Tendinitis
Achilles Tendon Rupture
Ankle Sprains
Sports related injuries are commonly treated using the RICE method. This includes rest, applying ice to the injured area, compression and elevating the ankle. More serious sprains and injuries may require surgery, which could include arthroscopic and reconstructive surgery. Rehabilitation and therapy may also be required in order to get any recovering athlete to become fully functional again. Any unusual aches and pains an athlete sustains must be evaluated by a licensed, reputable medical professional.
If you have any questions please feel free to contact our office located in Murrieta, CA . We offer the newest diagnostic and treatment technologies for all your foot and ankle needs.
Read more about Sports Related Foot And Ankle Injuries